Bulletproof Your Income
Your key to a financially viable art practice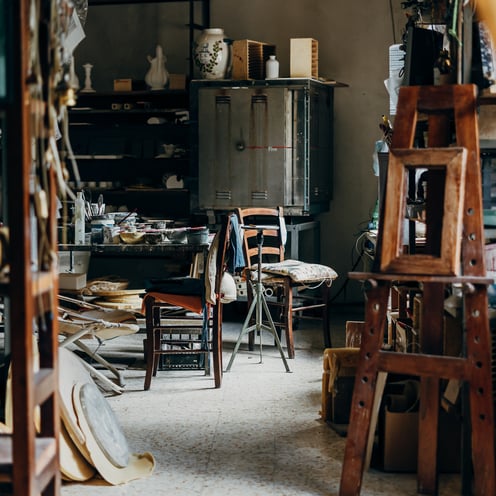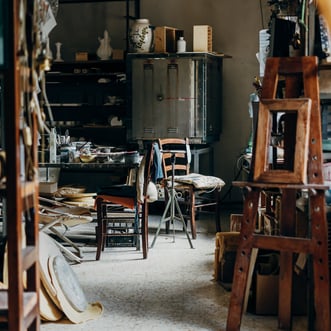 The course titled "Bulletproof Your Income" is a response to the changing face of the creative sector in the past two years. It is a hands-on, active and interactive training course created for creative entrepreneurs to secure and grow their independent businesses. We will guide you with practical knowledge, but more importantly, we'll share real-life experiences with you. You'll be equipped with a lot of tools to make creativity your main income, instead of it being a side-hustle.
This course is delivered by two industry experts. You can find Monika's profile on this website and John's profile below. We are looking forward to welcoming you on your journey to financial independence.
Taking the first steps into the world of the creative enterpreneur is not easy. You have graduated from the school of "giving my services away for free". You have learnt a lot: you consumed videos, podcasts and poured over Youtube to find information relevant to your business. You accumulated information, yet have no idea how to apply it. One day you are productive and the next you don't want to do anything. And although you want to dedicate yourself fully to your business, you do not dare to leave your day job.
OR

You are a creative business owner yet you face new challenges. You needed to position your brand, went from theory to practice, but you don't see results. You don't have an identity. When you think about raising prices, your mind says that you will lose your customers. You dream of collaborating but you don't dare to approach anyone, and although you have good ideas, you see others implement them easily before you get the chance.
Session 1. Business essentials for the 21st century
Session 2. Attracting clients + achieving high converting sales of products and services
Session 3. Making a living by installing multi stream incomes
Session 4. Maximising artists potential by monetising with the use of technology and data
"I like to place emphasis on self-reliance and self-discovery, meaning that I prefer to take on the role of a mentor. I won't serve you up a sea-bass dinner, instead, I will provide the fishing rod and show you where the best fishing is. The rest is up to you."
- Monika Fischbein
Artist, Author & Educator
"I've gone through a number of phases in my career, and each of them has informed my current work ethos and philosophy. I have excelled in a number of project management roles in diverse industries, and believe that my number one asset is my ability to adapt to any challenge that is thrown my way."
- John Paul Soroccos
Business Development & Marketing expert
John Paul Soroccos has been a freelance business consultant for over 35 years. Specialising in designing, developing and implementing sales and audience reach business development strategies, as well as extensive experience in managing companies and projects at director and senior management level across multiple sectors including more recently the arts and culture sectors. John has always been passionate with regards to issues with environmental awareness and sustainability. As a result he went back into Higher Education and completed an Earth Sciences degree with focus on global environmental change, sustainability, environmental impact and pollution. This has enabled him to combine his business experience with his passion for the environment.
As well as being a part of the programme's content development writing new as well as tried and tested business and marketing techniques into the programme that can be utilised by the participants.
Clients include: BBC, Schroeders, Goldman Sachs, Manhattan Chase, Barrett Edwards International,
The British Council, City Traders, Western Morning News and many more...
It's going to work like this
The live sessions happen Saturday mornings at 11am on the following dates:
3rd September
10th September
17th September
24th September

We will set aside half an hour a week after the live sessions to answer all the questions you send us via email, so you have ongoing support throughout the 4 weeks.
You will not receive pre-recorded material. We will be behind every 1 hour long live session. This course is completely online and you can follow the sessions via Zoom on your computer, smartphone or tablet. You can connect from anywhere in the world.
Once you pay for your registration, you will receive an email from us with Zoom links to each session. If you are not able to attend one/some sessions live, no problem! All the sessions and Q&As will be made available as recordings.
Launch date: 11 am, Saturday, 3rd September 2022
Are you ready for financial independence?